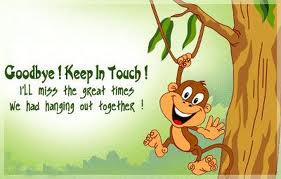 Week 10 has come to the end and it is time to say good-bye. I can't believe we are finishing what has been a wonderful journey, full of learning, amazing discoveries, incredible web experiences, and new friends. Today, I feel totally renewed, with fresh ideas in my mind and a strong desire to put into practice all what I have learned. Every week has been well designed and thought; but definitively, I loved the way it introduced us in a reflective process. All readings (carefully selected) and the weekly discussions provided me with the appropriate environment to make reflections on what I do in my classroom and how I can enliven my teaching practice. If I had to choose one week or a specific content, that would be very difficult; however, I can mention what I enjoyed the most per week:
Week 3: Skill-building websites for oral communication
Week 4: Skill-building websites for reading and writing
Week 5: Project-based learning and rubrics
Week 6: Interactive Powerpoint
Week 7: Learner autonomy
Week 8: Project plan, peer review
Week 9: The final project
I really enjoyed the whole the course, in spite of all pressure I felt due to personal and professional reasons. In my country, we are living a hard economic crisis. That is pushing all universities to work with very low budgets, less people and many responsibilities in a few hands. I did my very best to read, participate in the discussions and do my weekly tasks; however, something that was not in plans happened. That is what people calls "Muphy's law". My Internet connection died! Yes! No Internet service at home until now. So, I have had to visit cyber cafés at nights after my university work to do my Webskills course duties. It was hard but worth the effort. It represented a valuable and unique opportunity that I could not miss. Today, looking at the bright side of the story, I see that this situation allowed me to put on my students'shoes and feel what they feel, mainly when they cannot connect to do their English course tasks. It made me think on flexibility. In underdeveloped countries like Venezuela, the Internet failure or power blackouts are very common, that means I have to be more flexible when designing my online activities.
In general, I can stand that developing webskills requires persistency, a positive attitude, a lot of enthusiasm, colaborative work and a sharing spirit; but also an inner part based on motivation,deep reflections on our daily practice, self-evaluation and flexibility. For future course participants, I would suggest to:
1. Read all the details and information about the course, including evaluation, before starting.
2. Create a schedule and dedicate the right time for readings and weekly discussions.
3. Have a plan B in case of Internet failure. That has been my case. I have lived a nightmare during all these weeks. I didn't have (and I don't have yet) a plan B. There are no many options around here (Venezuela) to solve Internet connection problems or power blackouts. That is very frustrating when taking an online course.
3. Start writing your final project in advance. Follow the schedule and use templates from the very beginning.
4. Add your coursemates' blog links to your own, so they can be easily found. Read their posts and leave comments.
5. Keep in touch with your course facilitators and ask for help if needed.
6. Enjoy as much as possible. There are tons of new things you will learn.
Finally, I want to thank Courtney for her prompt feedback, effort, enthusiasm and dedication to each one of us; the University of Oregon and the US Embassy for such a wonderful professional development opportunity; and of course, all my coursemates for such interesting discussions and contributions. Let's keep in touch and growing together!
That's all, friends!
Evelyn (Venezuela)
@eveweb